Data Challenges Addressed
Home Performance (HP) XML standardizes the name, definition, format, and exchange of more than one thousand terms used by the residential energy efficiency industry to describe buildings, energy efficiency and renewable energy features and systems, and energy performance.
These data are produced and used by multiple market actors in residential energy efficiency for multiple purposes including program administration, research, the quantification of energy savings resulting home energy upgrades, and home valuation.
HPXML reduces the costs of collecting and exchanging residential energy data so that it can be more easily aggregated, shared, and analyzed to make decisions.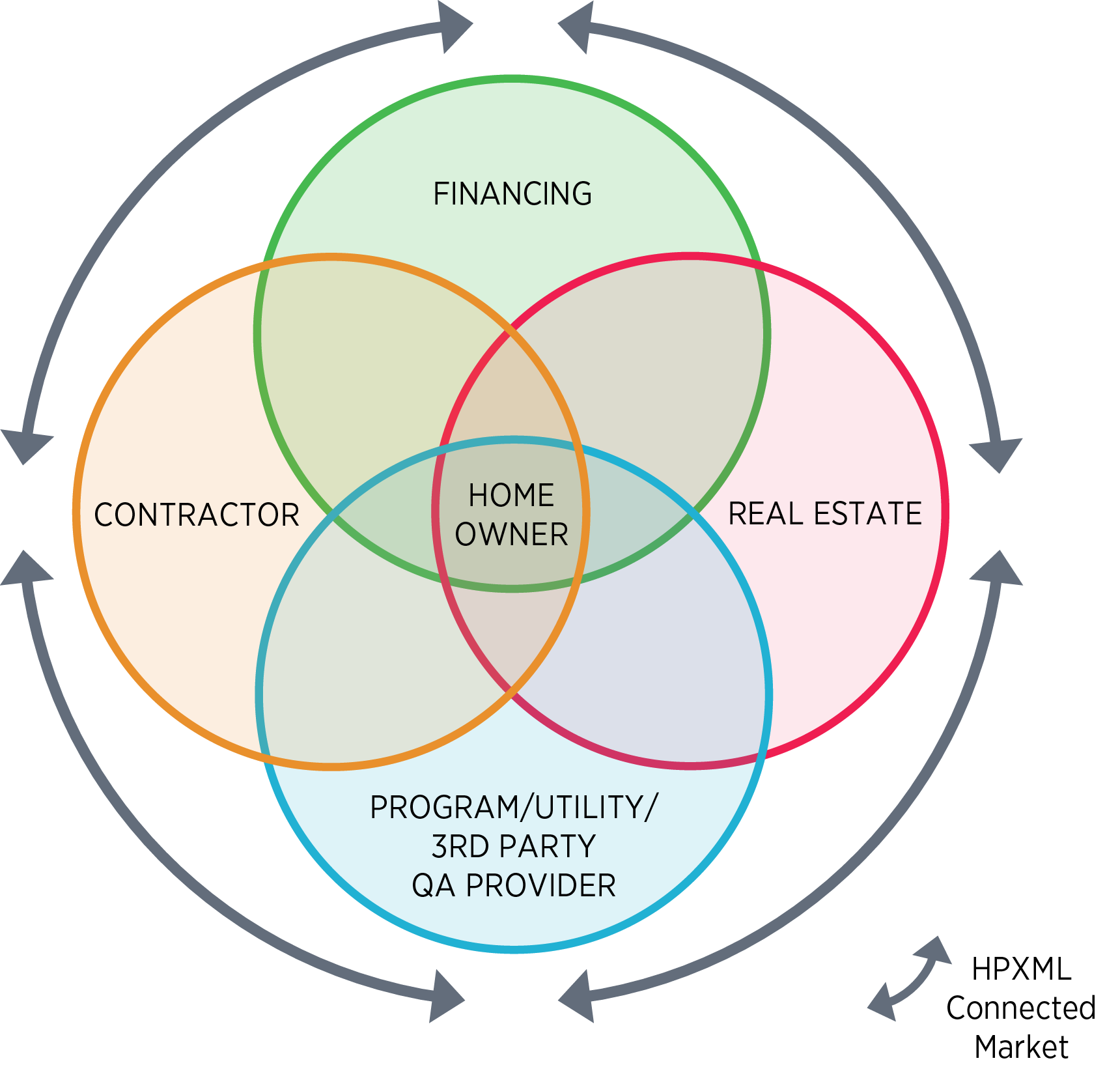 Home Performance
Utilizing HPXML enables contracting companies to export home energy data to home performance programs regardless of geographic or organizational boundaries. Contractors can significantly reduce their information technology and data collection costs, which increases their profits and likelihood of participating in programs. Programs also can operate more efficiently with HPXML. Automated validation of incoming HPXML files speeds up project approval times, reduces data entry errors, and enables contractors to provide homeowners with immediate feedback on program eligibility.
Arizona Public Service
Austin Energy
Efficiency Vermont
NYSERDA
Pacific Gas & Electric
PSEG Long Island
Salt River Project
San Diego Gas & Electric
SoCalGas
Southern California Edison
United Illuminating
Advanced Energy Analytics
Advanced data analytics software helps the industry more precisely target homeowners likely to benefit from energy efficiency upgrades, as well as supports the precise and real time calculation of energy efficiency savings. HPXML makes it cost-efficient for contractors to gather and export large datasets of standardized project data needed to analyze energy savings by housing type, measure, or energy modeling tool, for example.
Home Valuation
Issuing BPI-2101-compliant certificates ("real estate certificates") to homeowners helps document their investment in energy efficiency, which makes features, like air sealing and insulation, visible to homebuyers who are searching for these features. Appraisers can also use the information on certificates to understand the contributory value of residential energy efficiency, which may increase the home's value. BPI-2101 is an HPXML use case, so data contained on certificates are aligned with HPXML and can be mapped to the RESO Data Dictionary to facilitate interoperability with MLS systems. read more